Bartoníček's exhibition entitled '49° 56.822, 15° 15.870' (taken from the coordinates of where it's located) is a three-part site-specific project put together especially for the unique spaces of the Gallery of the Central Bohemian Gallery – specifically for the Baroque pharmacy and the spa room of the Jesuit College. All three pieces are poised on the boundary between technological research and conceptual art. The main installation uses a UV laser projector whose construction the artist made himself – the rays of light reflecting off the rippled water's surface draw abstract structures on a phosphorescent surface. The second work involves the classical technique of screenprinting, combining a traditional printmaking form with the current phenomenon of generative graphics. Using a simple flash of light, the third piece 'records' a momentary image of viewers' faces in their own retinas, raising questions about the delicate borderline between the image of reality and an idea conjured by the human mind.
Richard Drury (chief curator GASK)
Gallery of the Central Bohemian Region
Catalogue Download (PDF)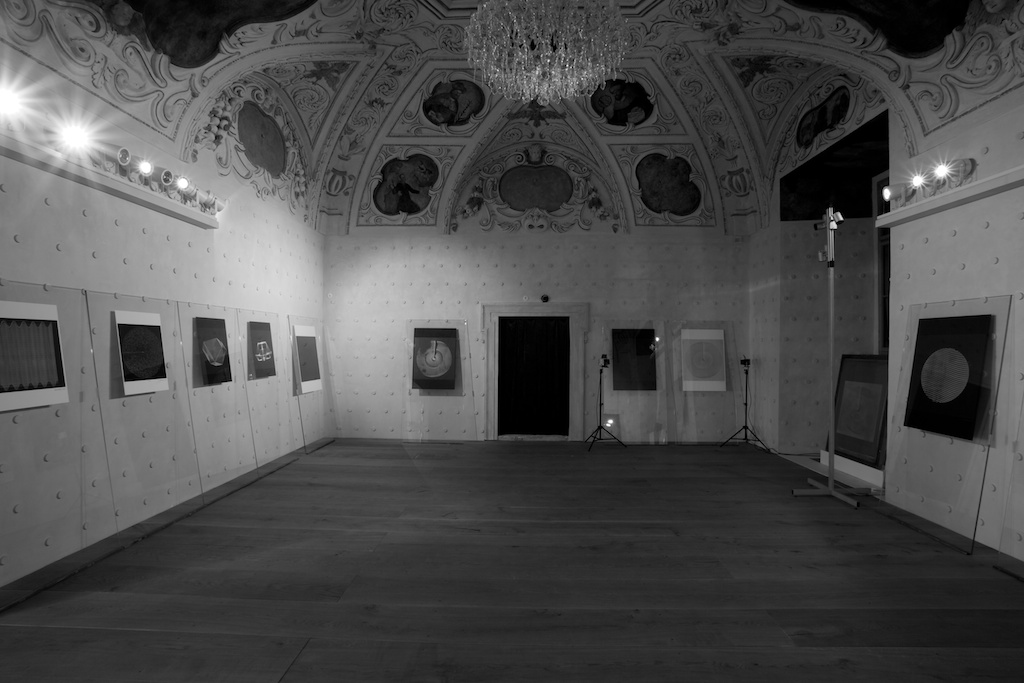 Prokop Bartoníček (*1983) belongs to the young generation of contemporary artists who use the latest technological innovations as a natural means of expression. Their creative arena isn't the studio but the entire global communications network. In contrast to many of his contemporaries, Bartoníček doesn't disengage from the experienced dimensions of human being; he doesn't journey off into the artificial realm of virtual reality. His work is, instead, focused on a carefully considered (though continually experimental) juxtaposition of the captivatingly perfect expression of electronic media and the no less fascinating 'real' world of humanity and nature. In the dialogue between these two spheres, Bartoníček is primarily concerned with revealing the processes that take place in the human mind, in nature and the universe. In doing so, he stimulates in our imagination an awareness of the laws (but also unpredictable phenomena) that determine both the tangible framework of human civilisation and the incalculable motions of the cosmos.