Byl jsem vedením festivalu osloven, abych na Signalu prezentoval můj dřívější projekt MIRRSAIC, který pracuje se slunečním světlem. To by ale MIRRSAIC byl jedinou instalací určenou pro denní světlo a to by situaci značně komplikovalo.
Delší dobu jsem v hlavě nosil návrh poměrně komplexní vizuální sestavy, která čekala na svůj čas. Často střídám technologie a média, hledám nové formy. Vždy se snažím, aby efekt forem nepřehlušil sdělení, obsah.
Nelze však zatajit mojí nekončící snahu o experiment, kterému dám nyní větší prostor v naší nové formaci. Výzvu festivalu Signal jsem nevyužil jako sólista, ale dal příležitost našemu novému společnému seskupení "pebe/lab", které se formovalo poslení dva roky. Měl jsem možnost setkat se v plném nasazení s famózním hardware konstruktérem Tomislavem Arnaudovem a excelentím coderem Palo Rusnákem.
Dříve jsem se snažil všechna má díla realizovat i po stránce technické sám, dalo mi to hodně zkušeností, které mi jsou velkou oporou. V poslední době je však více než jasné, že sám na všechny realizace nestačím a jsem rád, že jsem konečně narazil na kolegy, u kterých nemám pocit, že bych přinášel nepoměrně víc.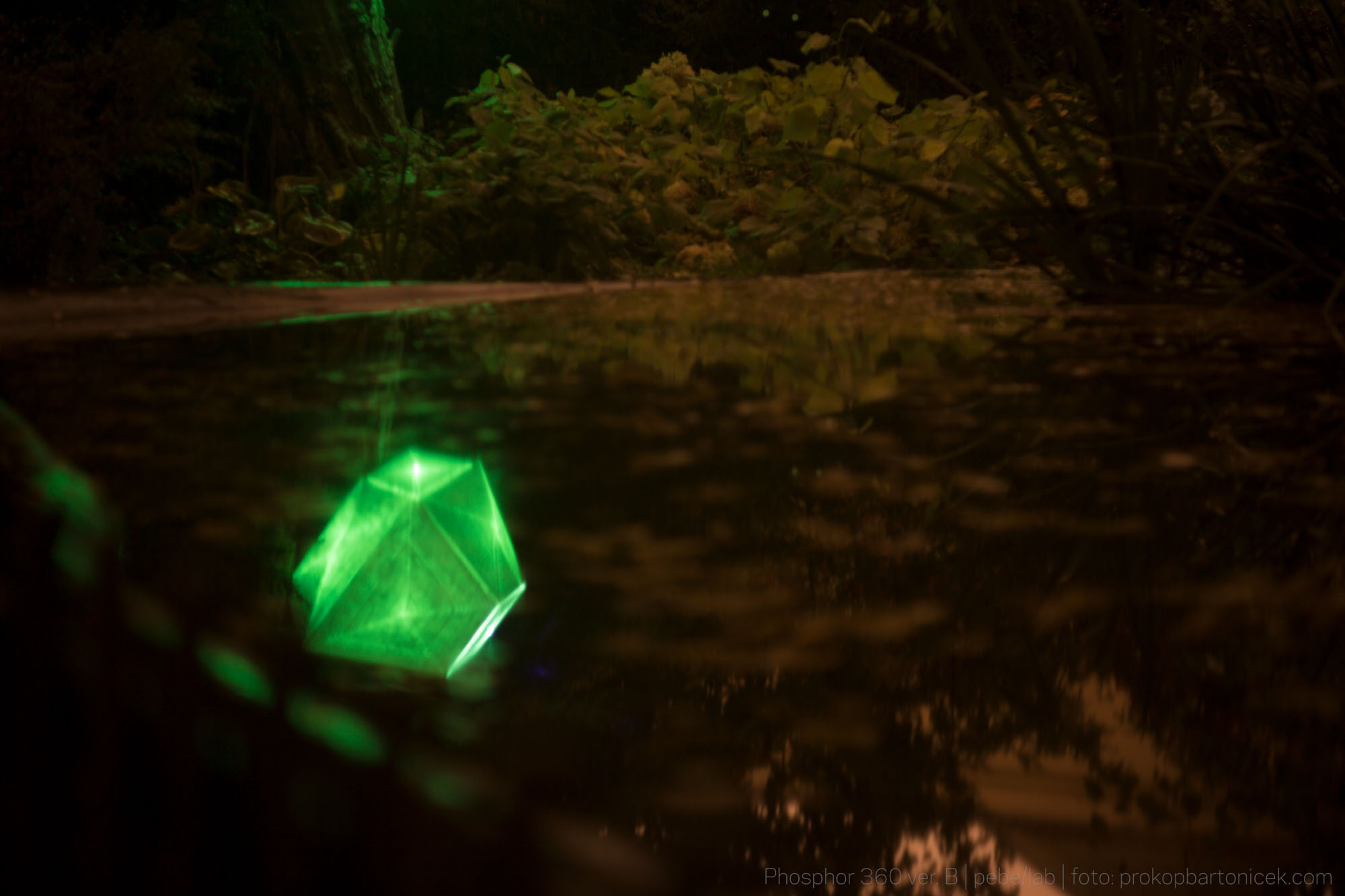 Instalace Phosphor 360 ver. B je prototypem nového vizuálního mechanizmu, který propojuje laser projekci, mapping a generativní motion graphics společně s energii akumulujícím materiálem.
Japonský umělec a technolog Daito Manabe již dříve testoval UV laser ve spojení s fosforovým povrchem projekční plochy. Instalace P360B využívá UV laser také, je však umístěn na 360° rotující hlavě a je tak schopen pokrýt vybraná místa prostoru.
V reálném čase vygenerovaná grafika je tak promítána na v okolí umístěné tvary. Silný UV paprsek pak nabíjí fosforový povrch geometrických objektů, který pak energii vyzařuje v podobě viditelných struktur, kompozic a obrazů.
Festival Signal je adekvátní příležitostí, kde lze diváky seznámit s touto novou světelnou formou. Vybral jsem k této příležitosti jezírko v zahradě ve Vojanový sadech, kde rozehrajeme trochu fantasktní a tajuplnou scenérii. Po posledních letech strávených nad vybalancovanými koncepty se vrhám k efektnímu společnému počinu, který bude zábavnou a tajemnou podívanou.
Seskupení pebe/lab vzniklo v roce 2012 spojením sil Prokopa Bartoníčka, Tomislava Arnaudova a Pavla Rusnaka. Experimentální trojice generuje visuální technologické koncepty a řešení, která nacházejí uplatnění ve volné tvorbě i v zakázkách.